Church Extension Plan is excited to partner with The Unstuck Group. We hope their services can help you clarify and fulfill your vision and calling. Keep reading and discover what this ministry is all about.
The Unstuck Group helps pastors grow healthy churches by guiding them through experiences to align vision, strategy, team and action. We bring a proven process that helps pastors assess ministry health, clarify the vision God's given them for the future, and create the team structure and action plans to see it through. Simply, we help them identify where God's calling the church to go and how they are going to get there.
---
Thanks to our partnership with The Unstuck Group, CEP is pleased to offer a FREE eBook entitled:
How to Fund Ministry in Uncertain Economic Times.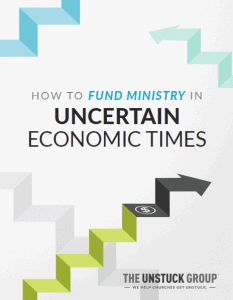 In these times of economic uncertainty, some things are clear: funding ministry is getting more expensive, and giving to churches is shrinking. This guide features a series of insights and conversations to help you navigate this important topic with your church team.
Complete below for Free eBook
---

For more information on how The Unstuck Group can help you, fill out the form below and they will get back to you!